Regular price
Sale price
$75.00 CAD
Unit price
per
Sale
Sold out
Share
A handmade wire wrapped tree of life necklace beaded with iridescent opalite beads. You can choose between sterling silver or copper wire for your pendant.
Opalite helps you with persistence. Perfect for the next time you need to prepare yet another 100 page slide deck that nobody will read, but everybody insists is necessary. Opalite will help you get through.
Opalite is an alternate birthstone for October, so this pendant makes a great gift for your favourite October people.
Product Details

The pendant is about 1 wide by 1.5 inches long, including the bail. It comes with a 20" chain that matches the wire colour you select. If you'd like a different chain length, or a different type of chain, you can leave me a note at checkout.

I do my best to photograph all products as clearly and accurately as possible, however, colours may appear differently on your screen than they do in person, so please allow for some slight variations.
About Opalite

Opalite is a man made glass that has the color properties of opal and is often used in place of gemstone opal, which is quite expensive. Opalite is an amazing material to work with, and to wear. It changes color as it catches different rays of light, making it a really magical piece of jewelry to own. It appears blue on a dark background, and orange on a white background. It's also sometimes referred to as sea opal or tiffany stone. Sometimes people mistake it for moonstone. Opalite improves communication, encourages persistence, and aids our ability to verbalize our emotions.
Fun with Opalite

Hold on to your opalite pendant while you calmly and clearly express how the latest feature you've been asked to work on is absolute bullshit.

Stare at it during one of those unending Zoom calls to give you something to take your mind off of this meeting you don't want to be at.
Opalite Birthstone Info

While not an official birthstone, opalite is a nice alternative birthstone for those born in the month of October.
Opalite Chakra Info

Opalite balances and activates the Crown chakra. The crown chakra is our gateway to the expanded universe beyond our bodies. It controls how we think, and how we respond to the world around us. It is the source of our spirituality and beliefs, and connects us to the higher planes of existence. It extends our energy beyond our body.

When the Crown chakra is in balance we are in balance. We know our place in the universe. We are flexible, we see things as they are, we go with the flow, knowing setbacks are an essential part of life. We are open and willing to change.
About the Tree of Life

The tree of life is a mystical and magical tree that is well known in many cultures. It represents our connection to all things -- earth, air, water, fire. In Celtic culture, trees were the centre of all that occurred -- the absence of trees would be the absence of life. In Christian tradition, eating from the tree of life is said to grant immortality. In Norse mythology, the tree of life, or Yggdrasil, binds together all realms of existence. This ancient tree represents our connection to our ancestors and also of our individuality. The stages of a tree's growth through the year mirrors that of the cycle of life, similar to the eternal life/re-birth traditions in many religions.
Shipping

Ready to ship from Canada in about a week.

Shipping from Canada. Free standard worldwide shipping on orders over CAD$75.00. Shipping to Canada and the US includes tracking. International shipping is untracked.

Upgrades to faster shipping options and tracked international shipping available at checkout. The buyer is responsible for any customs, duty, or taxes charged for cross-border shipments. 

 
Caring for your piece of magic
View full details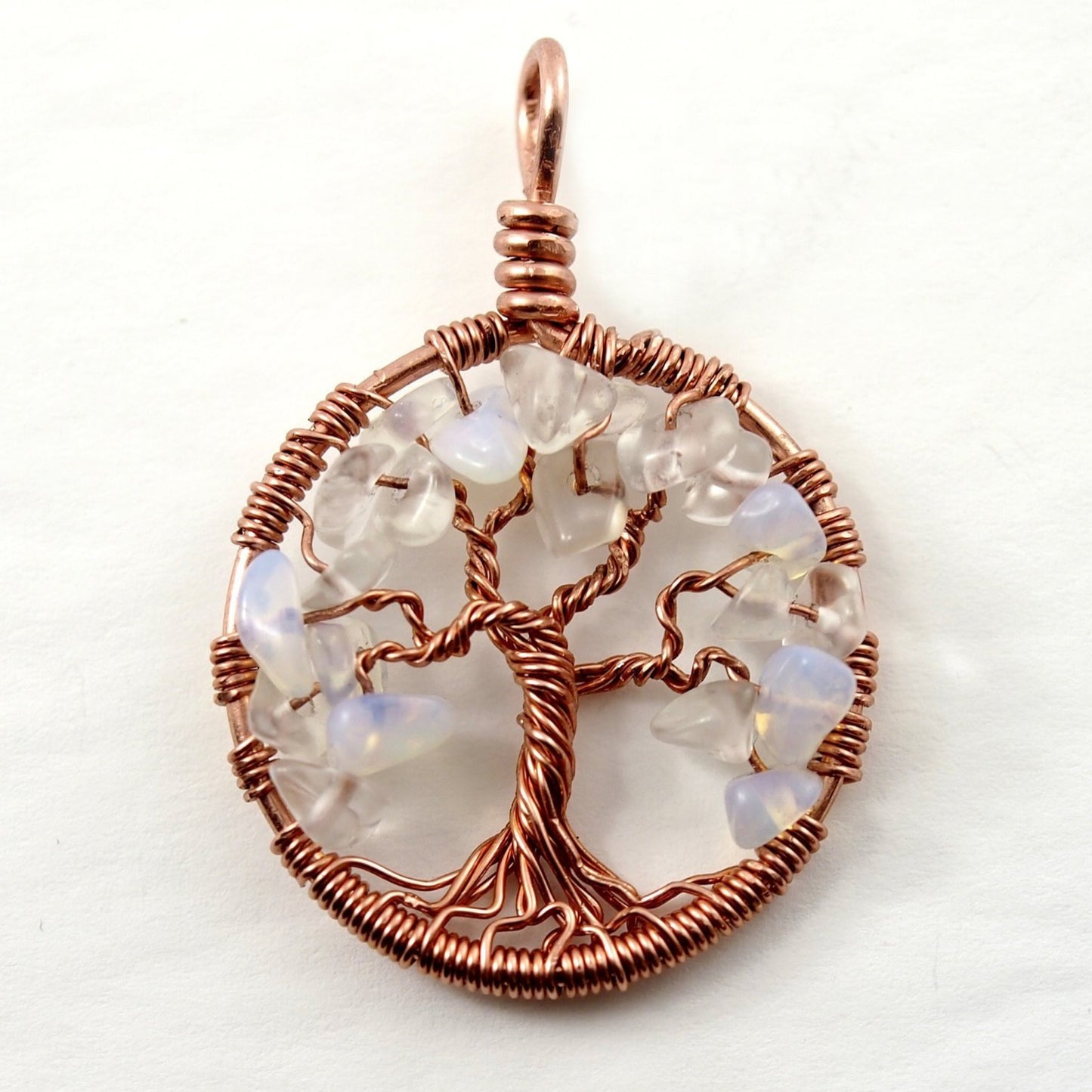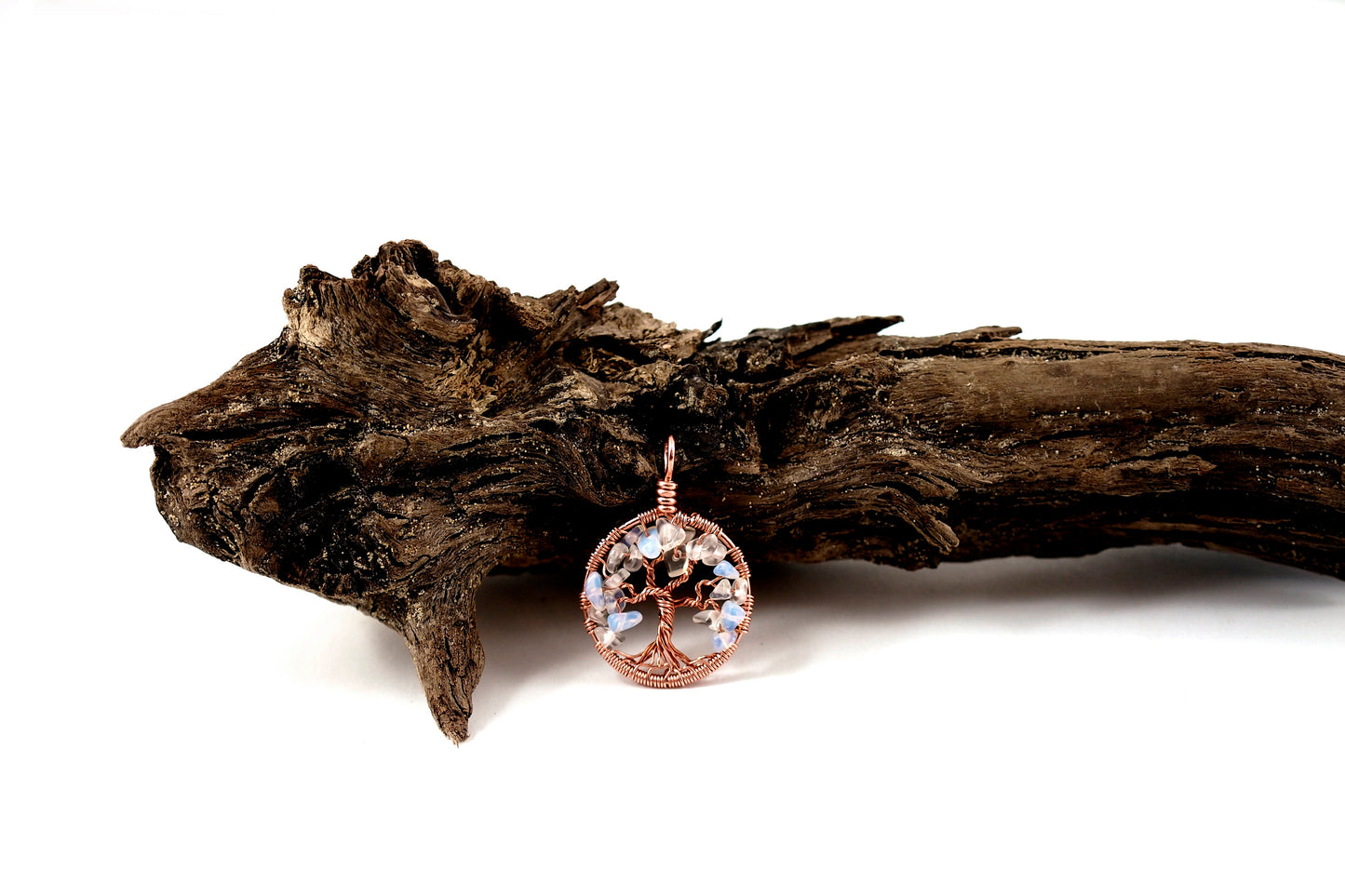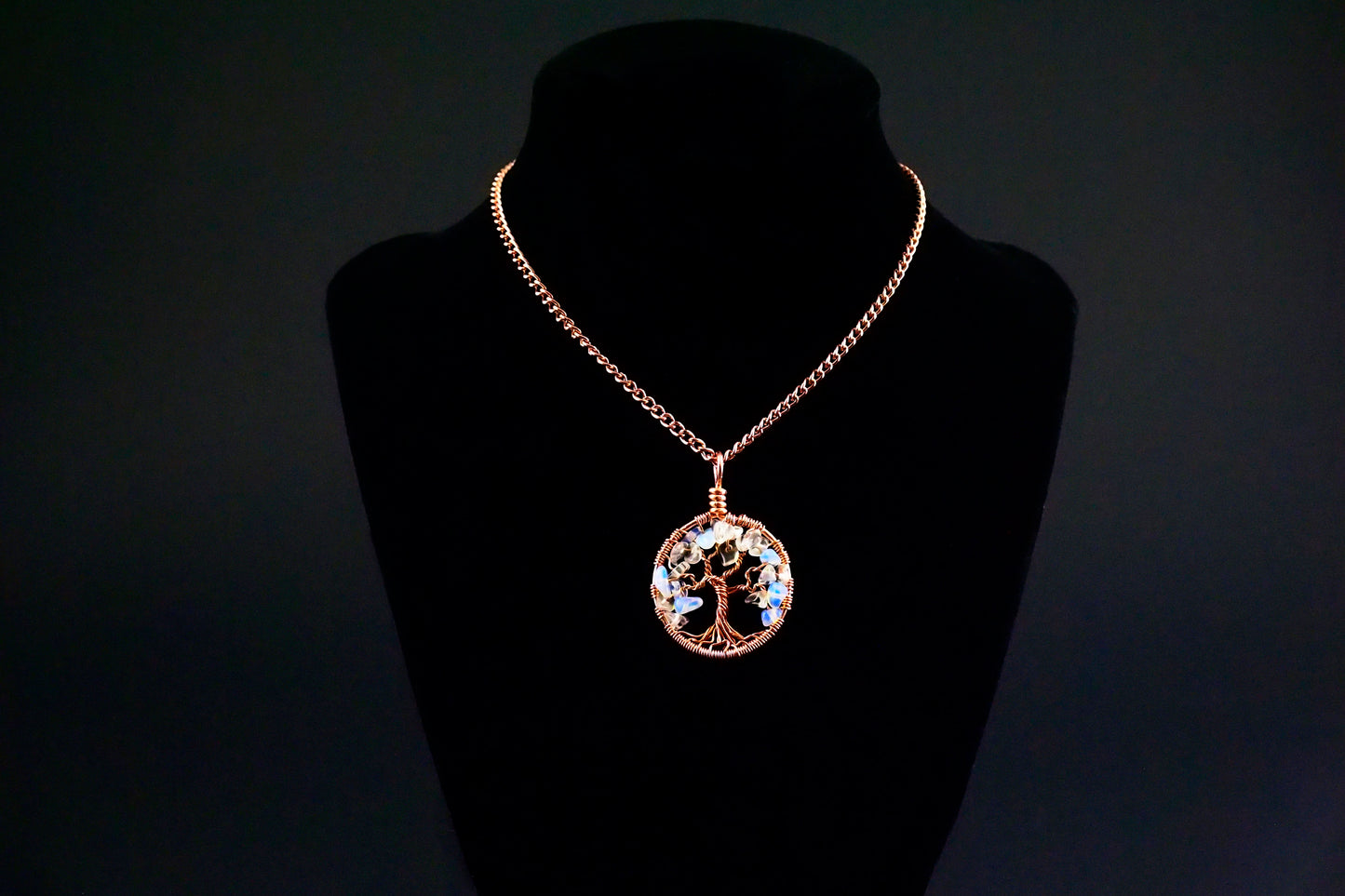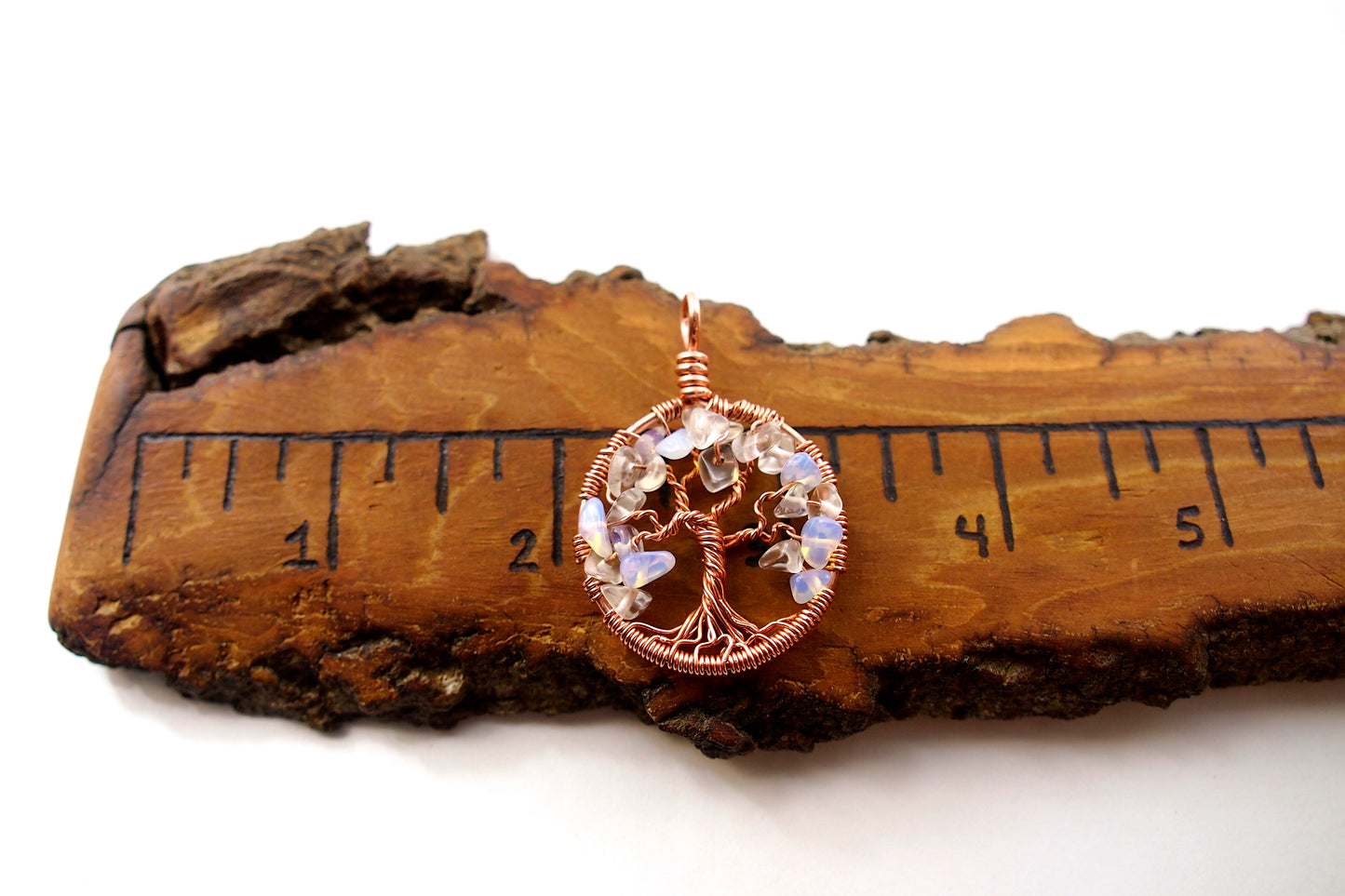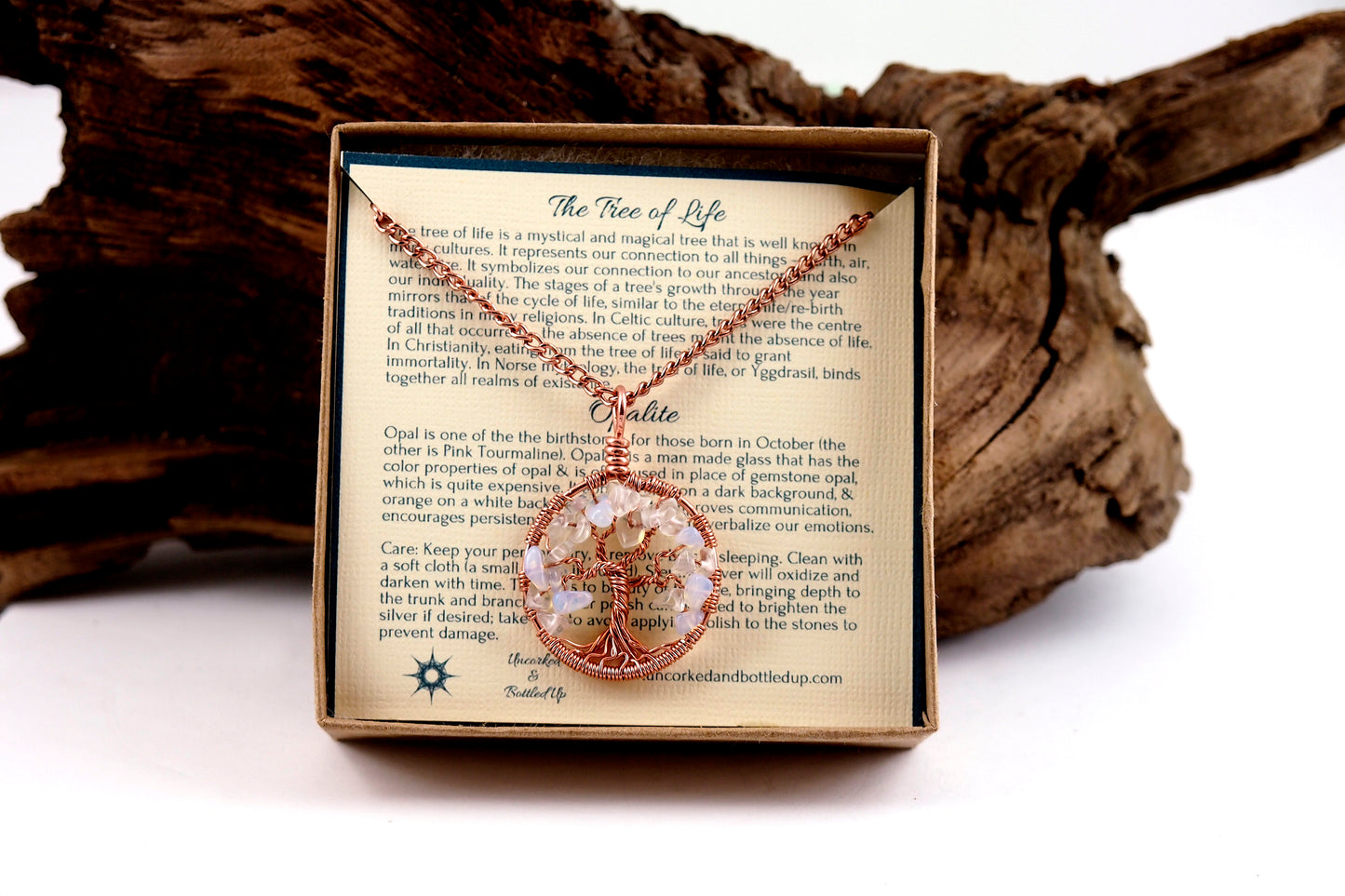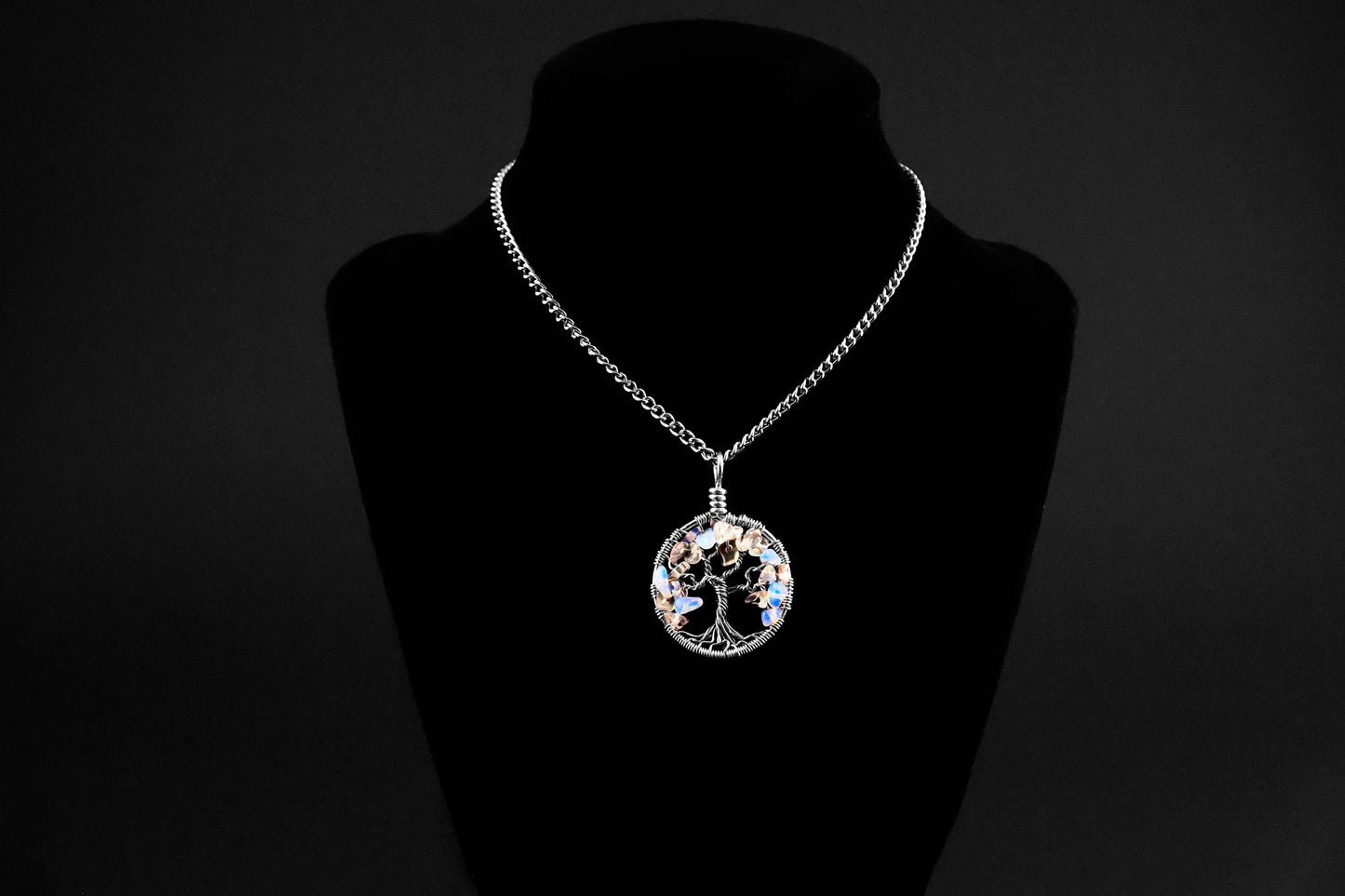 Caring for Your Magic
Magic can be a delicate thing. A few things to know:
Wire wrapped pieces sometimes have rough edges, even after filing and polishing. Handling with care and avoid wearing wire wrapped pieces against fabric that snags easily
Always remove your jewellery before showering, bathing or sleeping.
If you need to clean your jewellery, use a soft cloth. Some orders will be packaged with a small cleaning pad.
All metals will eventually tarnish. Storing jewellery away from air and light can help slow down the oxidization.
If you want to brighten up tarnished metal, you can use a polishing compound. Make sure to keep polish away from any gemstones or crystals as polish may damage them.
Some mixed metal pendants can be damaged by polishing. If you plan to polish these pieces, test the results on the back of the piece or in an inconspicuous place first. 
Do not use polishing compounds on tree of life wall art -- this will remove the silver finish
Some gemstones are sensitive to light and/or water. I recommend keeping home decor pieces in locations where they are sheltered from rain and not in constant direct sunlight. Re-locating your decor piece to different parts of your home from time to time can help ensure that the stones will remain their original colour.
Some gemstones are dyed -- these can bleed colour if they get wet. I don't often use dyed stones, but it can happen that I receive a shipment of stones that are dyed without knowing. Keeping your magic dry is the best way to avoid any problems with the dye.